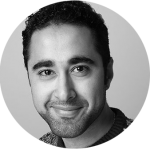 Advertising Manager:  Leading different fields of online marketing, advertising, SEO, web, graphics and photography.
AIESEC Leadership Development Experience: Teaching English language in Poland
Working on different fields of 3d Modeling, web and graphic designing as well as education.
I always knew that I wanted to design, but it never mattered to be graphic design or mechanical design. I started working with simple HTML codes when I was around 15 and when I started studying mechanical engineering at university, I built my own website! These experiences led me to get more interested in 3D designing as well as web content creation.
When I graduated, I was a mechanical design engineer who used to shape 3D models using SolidWorks and web designer who worked mostly with WordPress.
Having worked more on web/graphic during the last years, now I want to devote more time on mechanical related fields. I'm interested in all engineering related roles including 3D modeling, prototyping, and finite element analyses.
Masters degree in Mechanical Engineering Design at Sapienza University of Rome
Courses:
 FLUID MACHINERY IN ENERGY CONVERSION SYSTEMS
CONTROL SYSTEMS
 MEASUREMENT FOR MECHANICAL SYSTEMS AND INDUSTRY
SAFETY AND MAINTENANCE FOR INDUSTRIAL SYSTEMS
OPERATIONS RESEARCH
GEOTHERMAL ENERGY
GEOMATICS AND ITS
ADDITIVE MANUFACTURING AND PRODUCTION SYSTEMS
APPLIED METALLURGY
ADVANCED METHODS IN MECHANICAL DESIGN
OPERATIONS MANAGEMENT
RAPID PROTOTYPING
DYNAMICS OF MICROMECHANICAL SYSTEMS
Bachelor's degree in Mecchanical Engineering at IAUT
Courses:
MATERIAL SCIENCE
DIFFERENTIAL EQUATIONS
DYNAMICS
THERMODYNAMICS
FLUID MECHANICS
MACHINE ELEMENT DESIGN
MACHINE DYNAMICS
MECHANICAL VIBRATION
AUTOMATIC CONTROL
HEAT TRANSFER
ENGINEERING DESIGN
COMPOSIT MATERIALS
MECHANISIM DESIGN
Additive manufacturing
76%
Finite element analysis
71%
IELTS
Ultrasonic Weld testing
Simulink Onramp
Intelligent Machining
Cyber Security in Manufacturing 
Understanding research methods
Machine learning for bussiness professionals
ِDeep learning onramp 
Advanced manufacturing 
Intorduction to social inovation 
English 
Turkish
Persian
Italian